Our superior quality business cards are printed on glossy 12 point card stock. Plus we print spaces on the back of the cards — at no extra charge — for you to note future client appointments. Or if you prefer, you can leave the reverse side blank.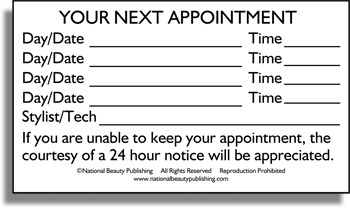 FREE Reverse side
Our on-line ordering system is fast, easy and totally secure with SSL encription technology. You'll be amazed by our virtual proofing system that allows you to view your finished card on the screen for approval before submitting your order. Once your order is placed, it will be shipped to you in 3 – 5 business days.

Order your new business cards for the low price of only $59.95 for 1,000, plus shipping.

To begin, just complete the information to be printed, shipping instructions and method of payment and select the card design you prefer. We'll take care of everything else. You will be absolutely delighted with your order.

Thank you for your business!